Back to top
Slow and Sure: Plot Summary
Slow and Sure; or, From the Street to the Shop
, New York: Street & Smith Co., 1900
The third novel to feature Paul Hoffman, this text opens with a description of Paul's younger brother Jimmy, whose
physiognomy
seems particularly suited to one of an artistic bent: "Jimmy, a delicate boy of eight, whose refined features, thoughtful look, and high brow showed that his mind by no means shared the weakness of his body" (7). The narrator follows by comparing this image to that of his older brother, who "was a stout, manly boy of fifteen...with a frank, handsome face, and an air of confidence and self-reliance" (10). The novel opens with the Hoffman family in relative comfort: Paul's business has been going well, and Paul can afford a small celebration. He invites his family to go to P.T. Barnum's showcase. They have a wonderful time seeing the exhibits, and they also attend a play production of Stowe's Uncle Tom's Cabin (which is, perhaps, a nod toward to Alger's own work Phil the Fiddler, which he often compared to Stowe's novel).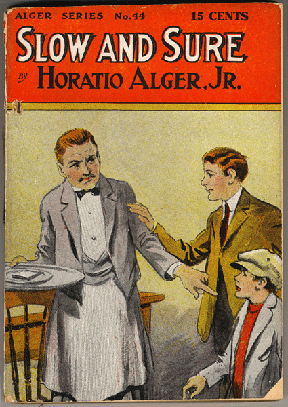 Next,
fortune
strikes: as they come home, the Hoffmans discover their boarding house is on fire, and all of the tenants are now homeless. Fortunately, the family has lost only their furniture, and anything of value, including Paul's bankbook, they have with them. For a temporary solution, they are taken in by the Norton family. The father is a policeman, the mother a housewife, and the son is a student and part-time newsboy. The comfort that the Nortons possess encourages Paul to find a better place to live, a desire revealed when he discusses rent prices with his mother: "We can easily afford twenty dollars a month, mother." "That is more than three times as much as we pay now." "I know it, but I want a better home and a better neighborhood, mother." (46)
Although they do not initially succeed in finding adequate housing, their
patron
, Mr. Preston, arrives with a solution. He offers them to housesit the manor of a colleague, Mr. Talbot, while Talbot is away in Europe. The Hoffmans readily accept the offer, and Paul prepares to buy new clothing and trunks to carry their few belongings. When going to withdraw money from Mr. Preston for the purchases, Mr. Talbot gives him a gift of fifty dollars. The family is introduced to the Talbots, who are favorably impressed by all. In particular, the Talbots encounter the Hoffmans attending the same church, a fact that impresses Mrs. Talbot greatly. The Talbots leave for Europe, assured that their house will be in safe and responsible hands.
The next episode begins with the introduction of Julius, an orphan under the guardianship of
villain
Jack Taylor. Paul encounters Julius on the streets and offers him a good meal. Julius is very thankful, and when he learns that night that Taylor, and a cohort, Marlowe, are planning to rob the Talbot house, he wants to help Paul. Taylor sends Julius to gather information on Paul, particularly when Paul will not be home. When Julius aids Paul, Paul realizes "that the money he had paid for a dinner for a hungry boy was likely to prove an
excellent investment
" (108-109).
As the night of the planned robbery draws nearer, Marlowe suspects Julius's allegiance to Paul, and changes the date of the robbery. On this night, Marlowe locks Julius in his room to prevent any warning. Julius manages to escape, however, and alerts Paul in time for him to set a trap with the police. At the Talbot house, Taylor is caught, but Marlowe escapes, and plans vengeance on Julius. Julius now finds himself in a dangerous situation. Paul takes him to Mr. Preston for advice, and the patron gives the young boy fifty dollars to go west. Meanwhile, Marlowe disguises himself as a sailor, both to evade arrest and to follow Julius more easily. His plans for vengeance almost succeed; however, a true sailor sees through Marlowe's disguise and protects Julius. Marlowe is then identified and arrested. Julius makes it to his departure point and leaves the city.
Next, Paul more fully adopts the role of patron with Mr. Preston. He helps to save the life of a starving English artist, Henderson, and his daughter by selling his work and employing him as a teacher for Jimmy. Henderson's works are quite good and sell well within the art circles.
Time passes: Mr. Talbot returns home from Europe; although they are out of a home, Mr. Talbot rewards the Hoffman family for preventing the robbery by giving them two hundred dollars. Paul sees an advertisement for a men's store, stock included. With the money that he has saved, plus a loan for the difference from Mr. Preston, he buys the store and hires young men to work under him. His business performs admirably well; Mrs. Hoffman, meanwhile, marries the English artist and the entire family lives happily.