Back to top
Phil the Fiddler; or, The Story of a Young Street Musician: Plot Summary
Phil the Fiddler; or, The Story of a Young Street Musician,
Philadelphia: John C. Winston, 1910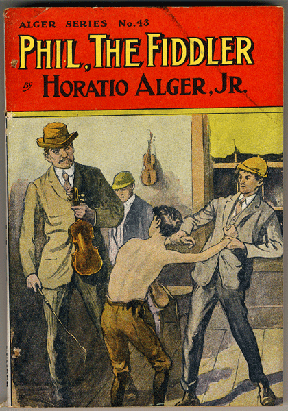 Phil is actually Fillipo,
hero
and young Italian boy sold into effective slavery by his parents to the padrone, a ruthless, abusive, and miserly master that requires the boys in his care to play the violin in the streets of New York for sixteen hours a day for money that is paid in full to him. The story is a strong departure from the average Alger work. The boy is not noted for his honesty or quick wits; instead, Alger presents him as a frightened boy who has been nearly beaten into complete surrender to his horrible life. Like the typical Alger hero, Phil is essentially an
orphan
, who through a horrible change of circumstances has been forced into a low level of work.
In this text, Paul (the peddler) acts like a
patron
to the young Italian boy. When Fillipo's only friend, Giacomo, takes ill and is about to die, Paul offers help and encouragement to Phil to escape his life and leave New York for the New Jersey countryside.
The basic conflicts that Phil endures are the results of encounters with cruel boys, one of whom breaks Phil's fiddle. Knowing that he will be horribly beaten of he returns, Phil agrees to borrow money from Paul to buy a new fiddle from the
pawnbroker
, and use the money to make his own life, keeping his own profits.
Phil is hindered by the pursuit of
bully
Pietro, nephew to the padrone. However, once in Newark, Phil is first protected by a powerful Irishwoman, who lends her home as a refuge from Pietro. Later, her husband defends him from the padrone, who decides to capture the runaway himself. After the padrone and Pietro are dealt with, Phil enters into the countryside, attempting to make money through his music to support himself. Along the way, he comes upon a schoolhouse, where he sits in for one lesson. He is inspired
to receive an education
.
The plot then moves forward to the winter months, and introduces the characters of a country doctor and his wife. Both are grieving the death of their son, aged twelve, some months earlier. When the doctor has to go on a
chance
house call in the evening, he finds Phil buried in snow, near death. The doctor decides to take him home. When he and his wife determine that he is alone in the world, they agree to adopt him. He is given
new clothes
, and offered the chance to attend school, an opportunity that he readily accepts.
Some time later, Phil goes to New York with his adoptive father. He meets Paul once again and repays the money that he owes for the fiddle. Paul is pleased to see how Phil has succeeded, and wishes him well. Phil is also seen and approached by Pietro and the padrone, but the doctor protects Phil and prevents his return to servitude.
The narrator ends by saying that Phil has opened communication with his mother in Italy, whom he still loves, and that his education has progressed to the point that he seems completely American save for his clear olive complexion and handsome dark eyes.