Andy Gordon: Plot Summary
Andy Gordon
, New York: Street and Smith, 1905.
The
hero
, Andy is the
son of a poor widow
, who works as a janitor at the local school to earn his
education
. Andy is an excellent student, which earns him the enmity of
fop
Herbert Ross, the rich and spoiled son of a wealthy lawyer.
The first episode occurs in the schoolhouse; Andy is sweeping before class begins. Herbert enters and spitefully kicks Andy's pile of dust. Henry then attacks Andy, who in defending himself soundly beats Henry before their teacher, Dr. Euclid, breaks up the fight. Euclid sides with Andy; Henry goes to his father, a trustee of the school, and persuades him to go to Euclid to order Andy's dismissal. Though Mr. Ross
falsely
accuses Andy of initiating the fight, Euclid refuses to fire Andy. Mr. Ross returns home unsatisfied and desirous of his own vengeance.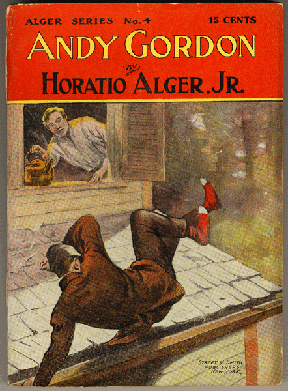 The second episode introduces
miser
Joshua Starr, an old moneylender who had indebted Andy's father before he died. He goes to Mr. Ross claiming that the loan that Mr. Gordon had taken had never been repaid, despite Mrs. Gordon's protestations to the contrary. Starr asks Ross to confirm his story and allow him to take some of the Gordons' furniture in partial repayment. Ross, seeing an opportunity for revenge, agrees. Unfortunately for both accusers,
the same day a package arrives
in the mail that Andy opens. Inside is his father's wallet, sent by an old war friend. The wallet contains the receipt to his father's transaction with Starr, and proves that Starr is lying. Andy persuades his mother to delay presenting the receipt until both Starr and Ross are proven greedy liars. As a result, Starr returns home empty-handed, Ross humiliated (although he bills Starr for his s